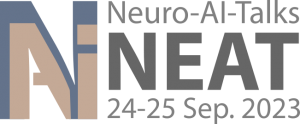 Registration is now closed. We are at full capacity with ~80 registered AI and Neuroscience enthusiasts. We are looking forward to seeing you in September.
Welcome to NEAT – Neuro-AI-Talks in Osnabrück – an event for EU-based research groups working at the intersection of neuroscience and artificial intelligence. The focus of NEAT is to foster connections and discussions among attendees, sharing new ideas, projects, and directions, as well as exploring potential collaborations. The event is aiming for a rather small group of attendees (approximately 70-80 people, invite only) to encourage an open and relaxed exchange. Each research group is welcome to join with 3-4 members and their PI. We look forward to welcoming you to Osnabrück in September.
Questions? Feel free to contact Katja Ruge at katja.ruge(at)uni-osnabrueck.de.
Important dates
Registration deadline: 31 March 2023
Hotel reservation deadline: 31 July 2023
Welcome reception: 24 September 2023
Main event: 25 September 2023
Venue
NEAT will take place in the "Bohnenkamphaus", a conference venue at the heart of the botanical gardens of the University of Osnabrück.
Hotels
We were able to negotiate special prices for the NEAT participants in three hotels in Osnabrück. Rooms are reserved at this rate until 31st of July 2023. Please book via email or via phone, booking codeword for both hotels is "neat 2023".
Vienna House Remarque
Walking distance to venue: 15 minutes
Single room: 109 Eur/night per room
Double room: 109 Eur/night per room
Booking codeword: "neat 2023"
Web: Remarque Hotel
Walhalla Hotel
Walking distance to venue: 18 minutes
Single room: 94 Eur/night
Double room: 104 Eur/night
Booking codeword: "neat 2023"
Web: Hotel Walhalla
Main workshop dinner (September 25th)
The joint workshop dinner will take place at the Portobar in Osnabrück – reachable on foot from the event and hotel.
Address: Weidenstraße 2, 49080 Osnabrück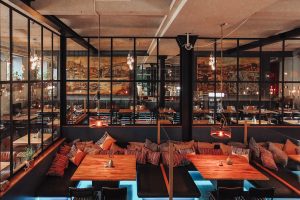 Web:
https://portobar-restaurant.de/restaurant/
Due to the generous donations by our sponsors, the workshop dinner will be free of charge (registration required).
Keynote Speakers
Keynote 1:

Prof. Matthew Larkum
Decoding the cortex: deep pyramidal insights into computation
Keynote 2:

Prof. Mariya Toneva
"Language modeling beyond language modeling."
Schedule
Sunday September 24, 2023
17:00 – 19:00
Welcome reception
19:00 – 22:00
Dinner matching
Similar to CCN mind-matching, we plan to match scientists according to their research interests. Mind-matched groups will have joint dinner at local restaurants.
Monday September 25, 2023
08:30 – 09:00
Registration
09:00 – 09:15
Welcome
09:15 – 10:15
Keynote 1 – Matthew Larkum
Coffee Break
10:30 – 11:15
Science Shuffle
11:15 – 12:45
Poster Session 1
Lunch
13:00 – 14:30
Poster Session 2
14:30 – 15:30
Debate Pods
Coffee Break
16:00 – 17:00
Keynote 2 – Mariya Toneva
17:00 – 17:30
Closing Remarks
19:00
Joint Dinner
Posters
Information on the poster format will be posted soon.
Event sponsors